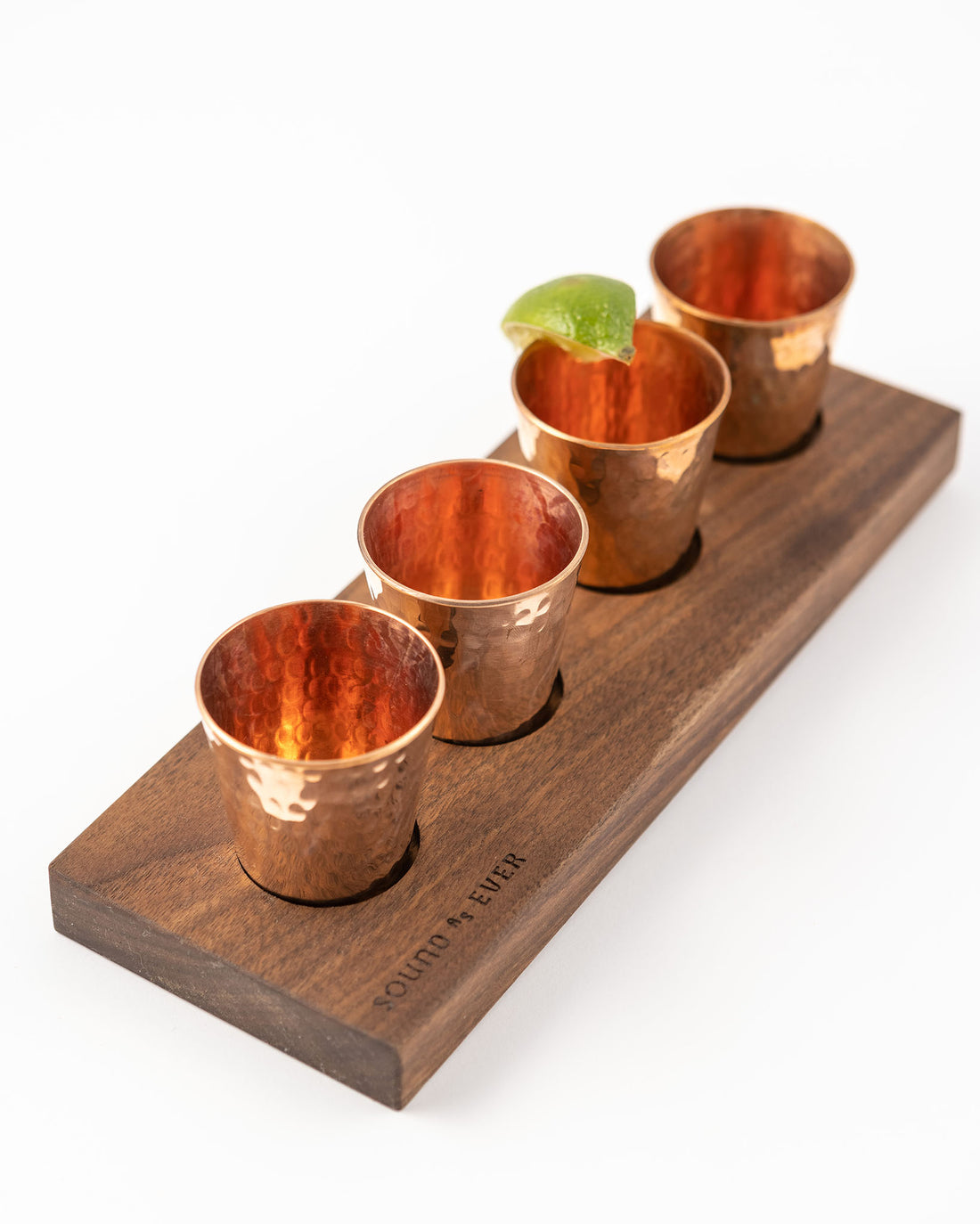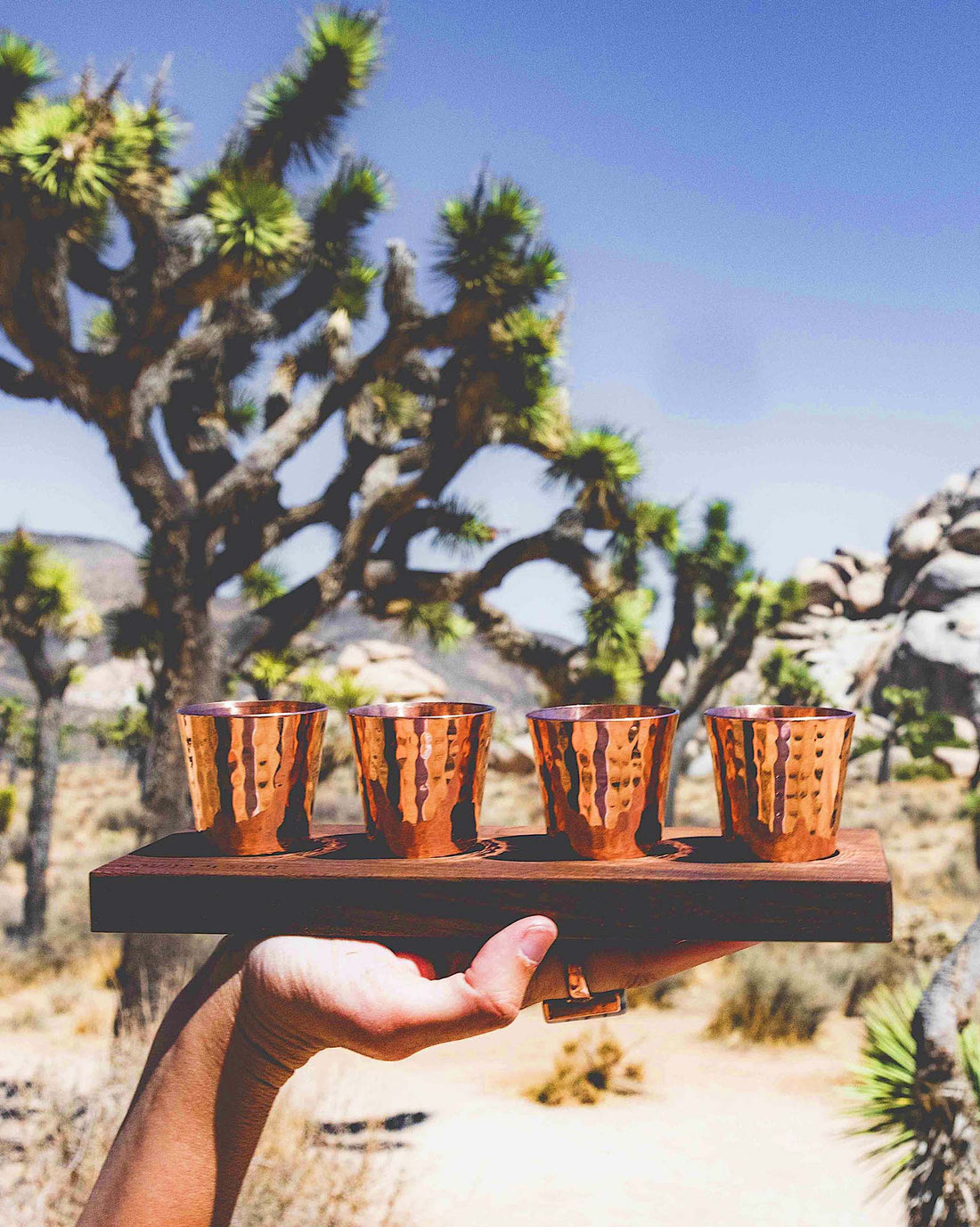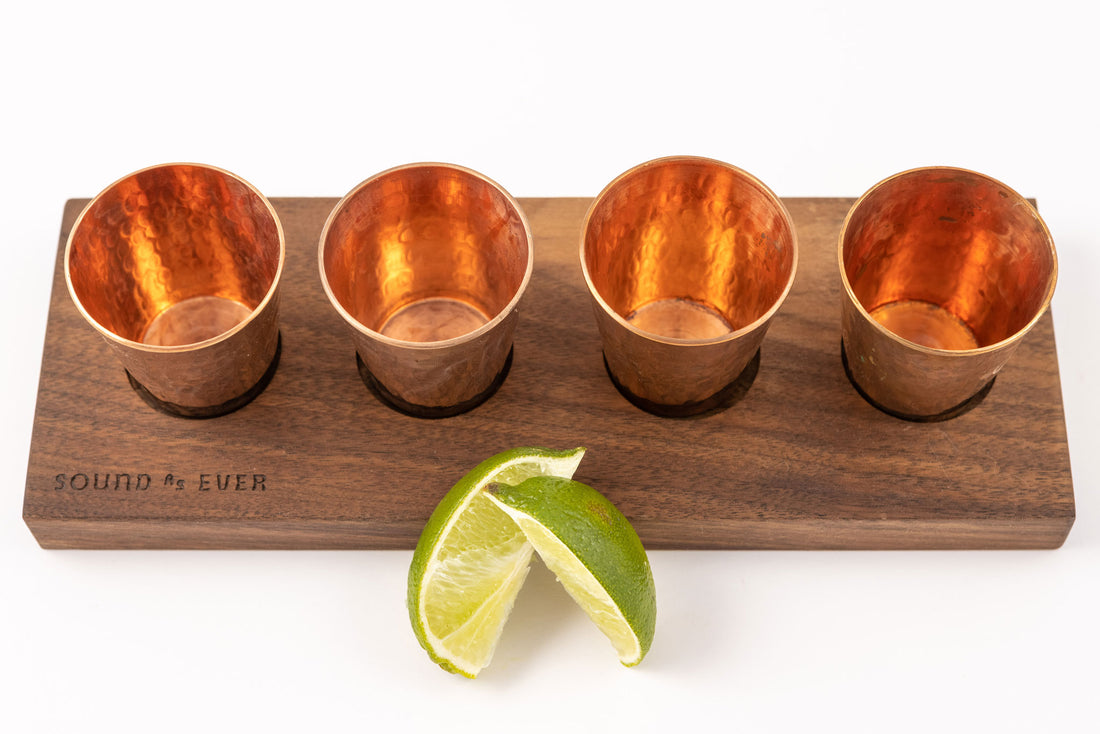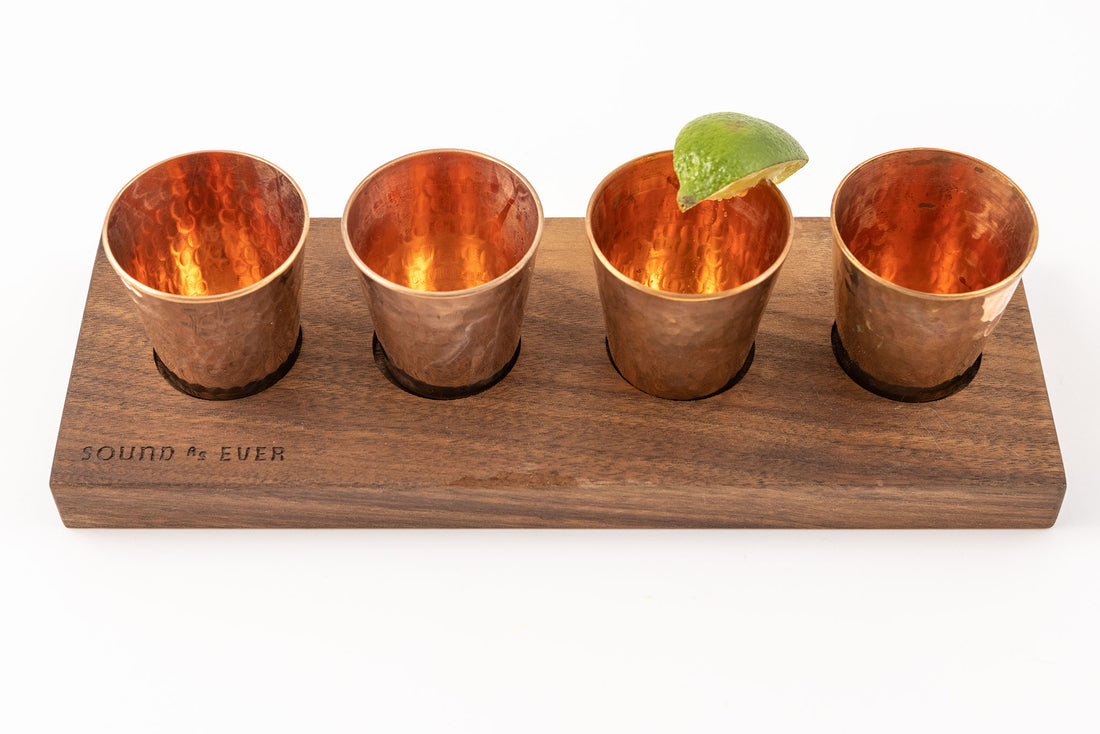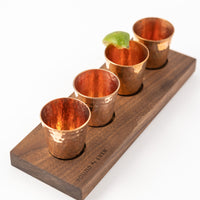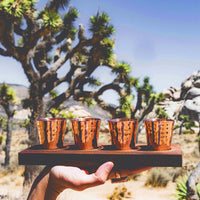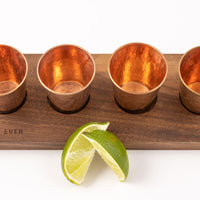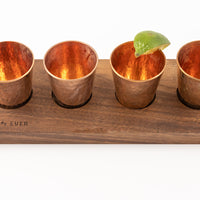 "Casa Cosmic" Flight Board
We at Sound As Ever are *infatuated* with entertaining, however intimate or large a gathering it is. As household interest in tequila and mezcal spirits continues to grow these past couple years, we love exploring new products that pop up on the shelves of our corner spirit spot. 
Gather some amigos, pop on a good playlist, and sample whatever inspires you with our "Casa Cosmic" Flight Board. The flight tray set includes four hammered copper shot glasses paired with a handmade walnut wood cutting board branded with the Sound As Ever logo. Give our new and local favorite Desert Door Sotol a try. 
The four copper cups are hand forged from solid, 100% recycled copper. All boards are made from natural walnut wood, and each features unique variations and colorings. 
Perfect for serving a round, or displaying your heirloom glasses, this shot board is the ultimate luxury bar gift. 
Pairs well with our handmade Ceramic Mezcal Copitas for additional guests beyond four people. 
MATERIAL:
- 100% recycled, pure copper
- Solid walnut wood

DESIGN:
- Heavy gauge, hammered copper
- Wide mouth shot glass
- Handmade wood serving tray
- Board features branded Sound As Ever logo

MEASUREMENTS:
Copper shot glasses:
- Hold 2 fluid ounces
- Height: 2 in.
- Diameter: 2 in.
Wood serving tray:
- Length: 9.75 in.
- Width: 3.5 in.
- Thickness: .875 in.
At Sound As Ever, we chose to highlight 100% recycled copper products because positive environmental impact is one of the guiding principles of measuring our success as a business.

Recycling copper has many positive environmental outcomes including solid waste diversion, reduced energy consumption from processing, and natural resource conservation. 100% recycled copper products are the eco-friendly, sustainable choice.
The Flight Board is made of natural solid walnut wood that has been oiled. We do not recommend putting this item in the dishwasher. After washing with soap and water, fully dry for best care. Your flight board can be oiled regularly with olive oil or butcher block oil.

Wash and dry copper shot glasses immediately to prevent spotting, though some spotting will occur over time from reactions with tap water. Copper will patina with time, but can be polished to its original shine.


Free domestic shipping for orders over $100. We also offer international shipping. We accept returns for products unless otherwise noted. Please see our Shipping & Returns Policy for full details.