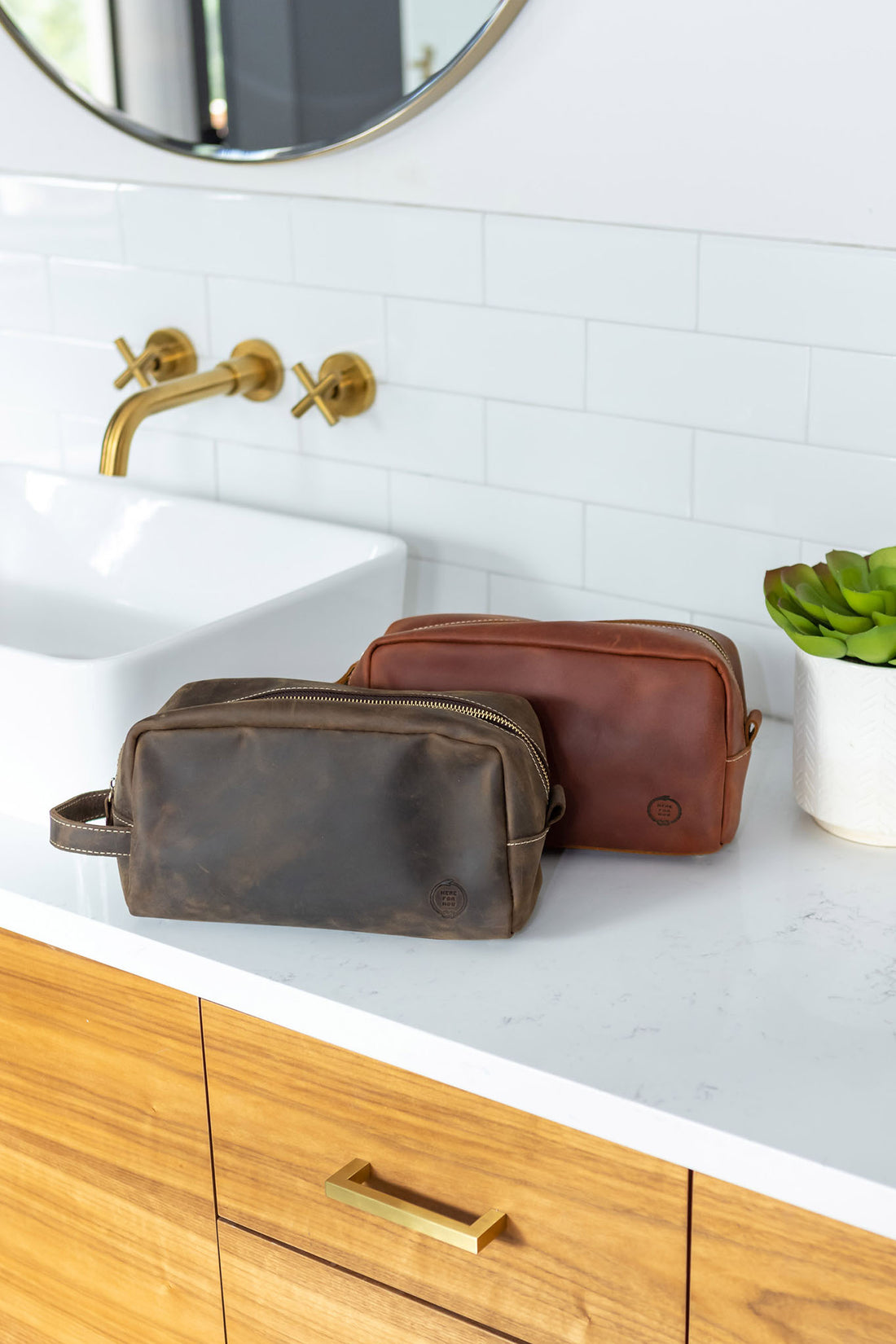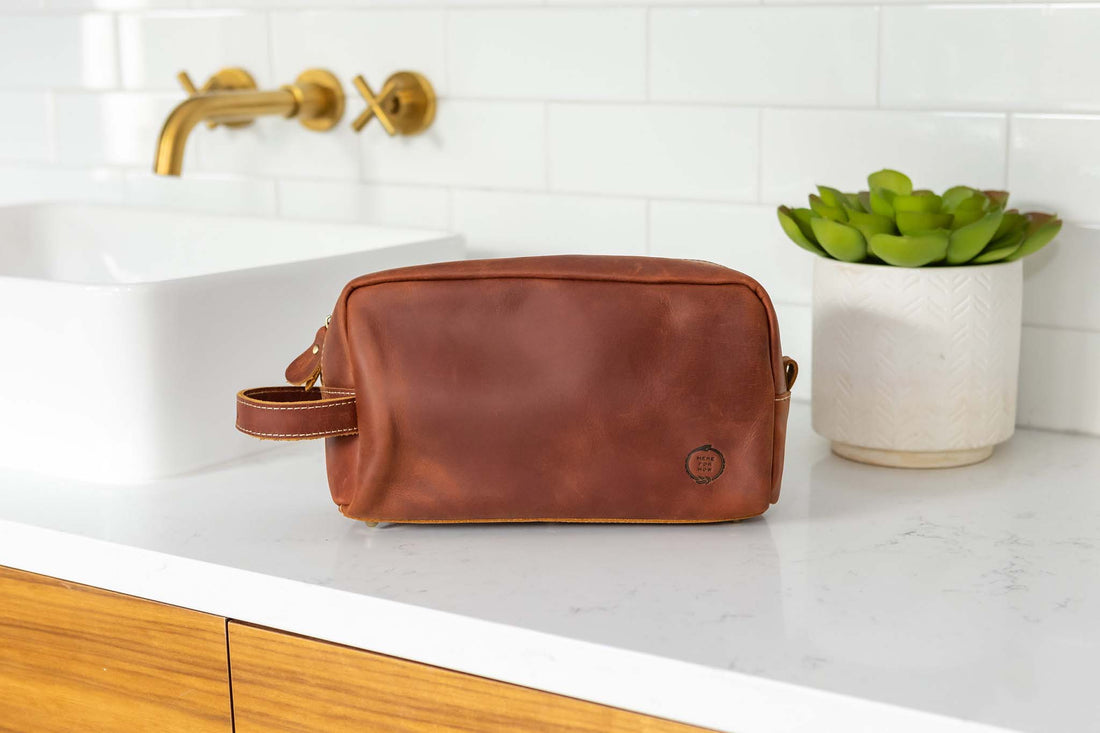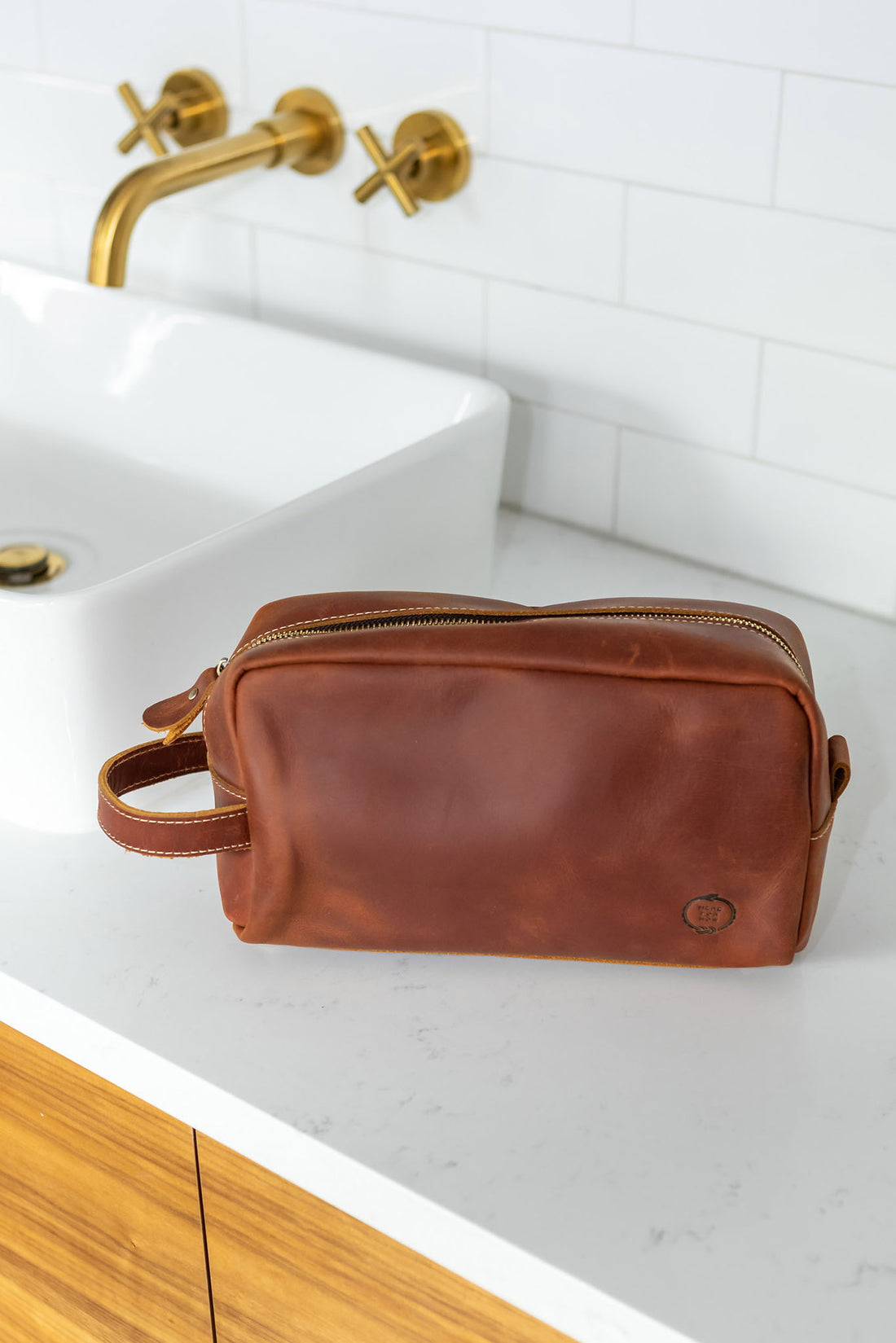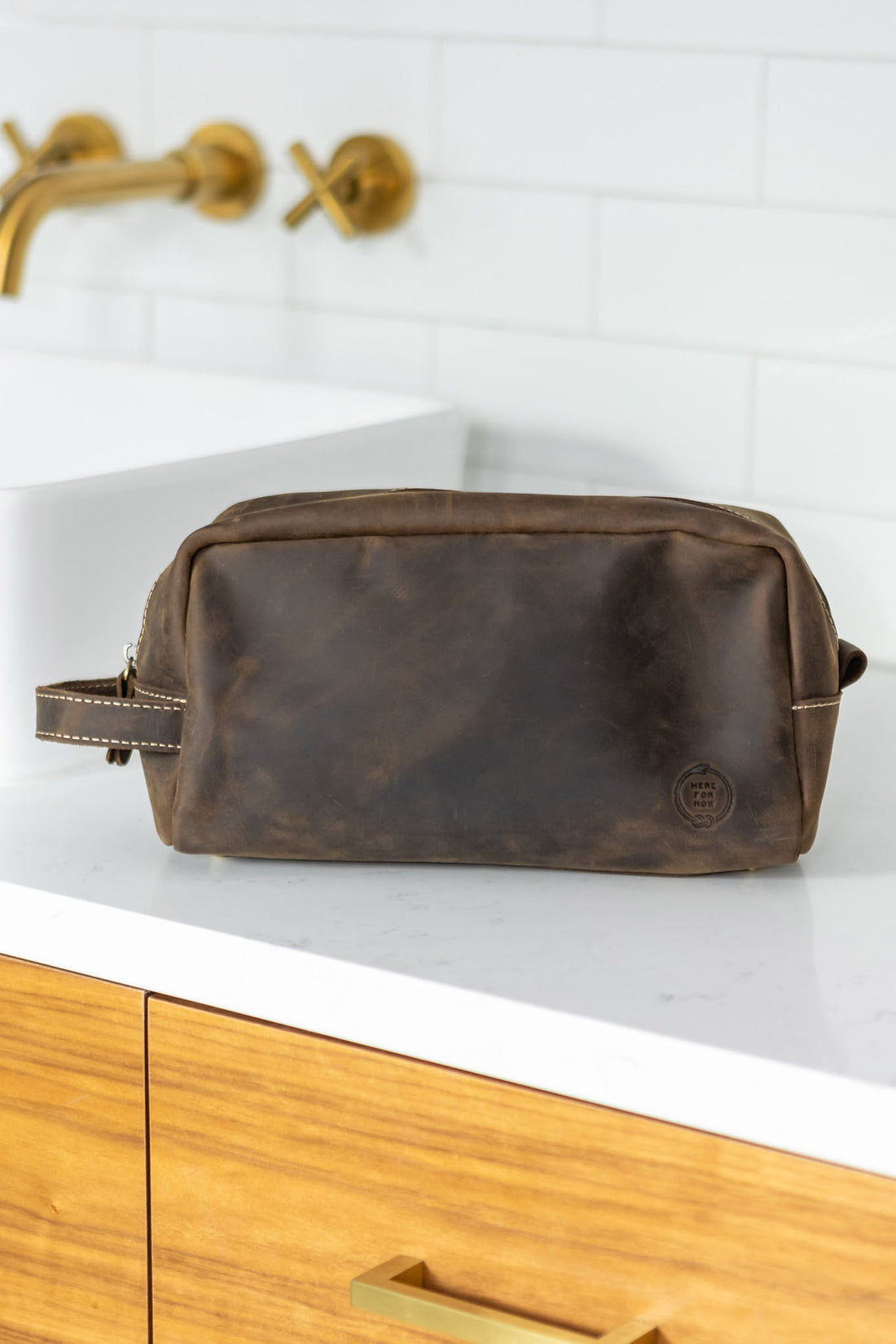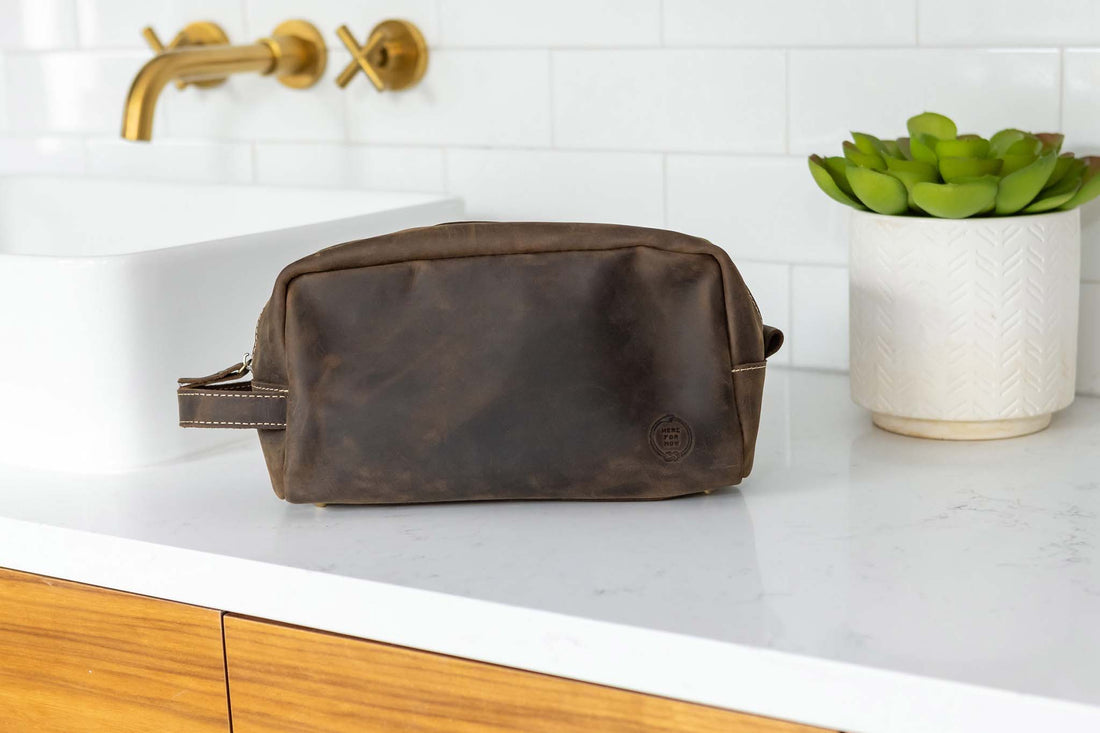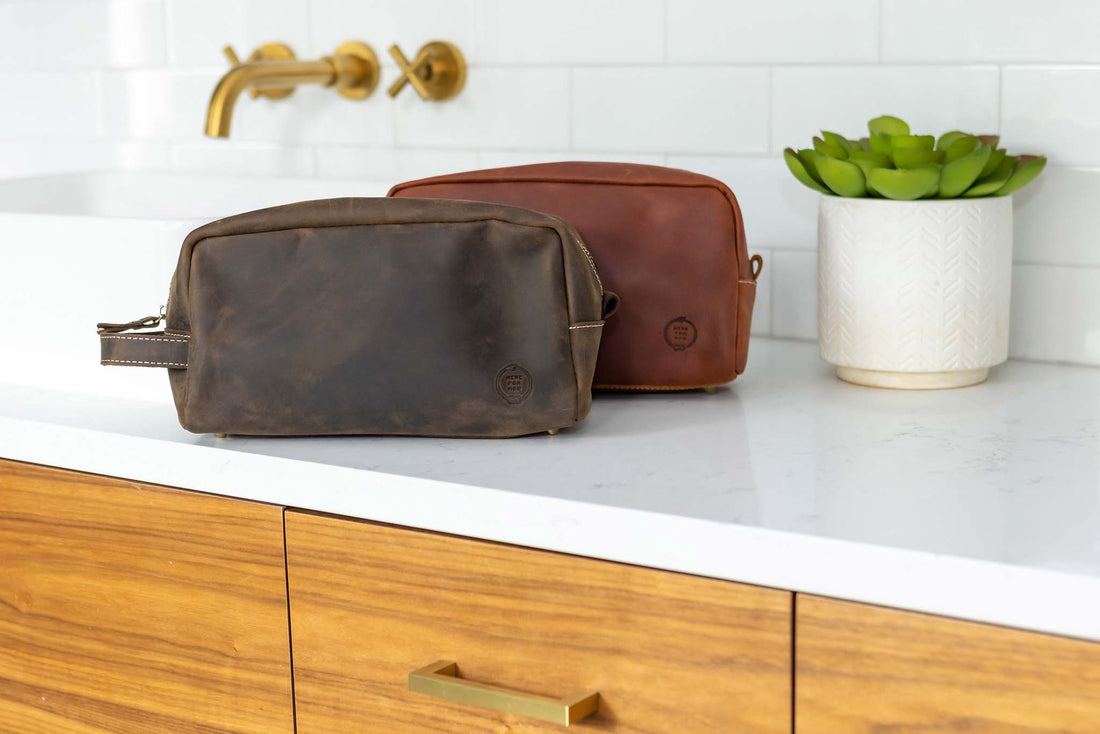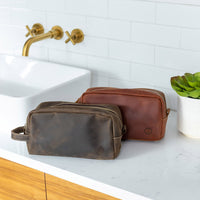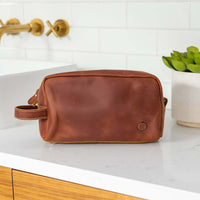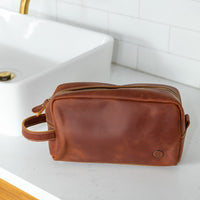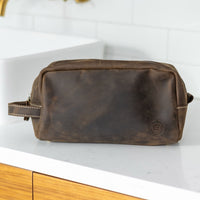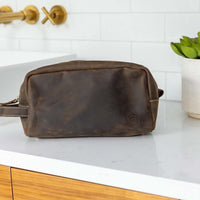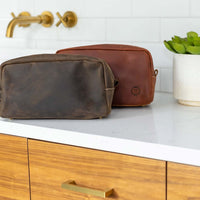 This piece is a must have for road trips and sojourning alike. Ideal for guys and gals, our Leather Dopp Bag and Travel Kit is crafted with a distressed look and feel and is hand-stamped with our signature "Here for Now" Ouroboros design.

Its durable build ensures it will be a favored travel companion for many years to come.

A full grain genuine leather Dopp Bag that will only get better with age, this product features a simple and classic design with ample room for shaving supplies, vitamins, shampoo, perfumes and any travel essentials or indulgences. A zippered top keeps your toiletries secure while a minimalist interior provides easy access for all your daily essentials. 
Available in two color options: 
- Rust
- Umber
What's in a name?
The original invention of the Dopp kit was by Charles Doppelt, an American immigrant of German origin, whose company stitched the first "Doppelt Kit" out of leather in 1926. It was named after its inventor, but affectionately abbreviated to Dopp.
Initially only sold locally, an order from the US Military during WWII tasked the factory with providing one to all active service personnel. And when those soldiers finished active service, most brought their Dopp kits home and started using them in civilian life. Thus, the "Dopp kit" became a household name.
Looking for a stylish way to carry your cards while traveling the world? Grab our handmade leather passport wallet for your epic journey. 
MATERIALS:
- Genuine top shelf leather

DESIGN:
- 1 outside zipper pocket
- 2 inside pockets to keep your toiletries secure
- Carrying handle for ease of travel and hanging
- Available in two color choices

MEASUREMENTS:
- 10 inches long
- 6 inches high
Our leather products are all handmade of genuine leather. No two are exactly alike, but all are made carefully and with durability in mind. The leather may color with time to a beautiful patina. Spot clean leather with a moist cloth. For additional details, see our full Leather Care Guide.


Free domestic shipping for orders over $100. We also offer international shipping. We accept returns for products unless otherwise noted. Please see our Shipping & Returns Policy for full details.