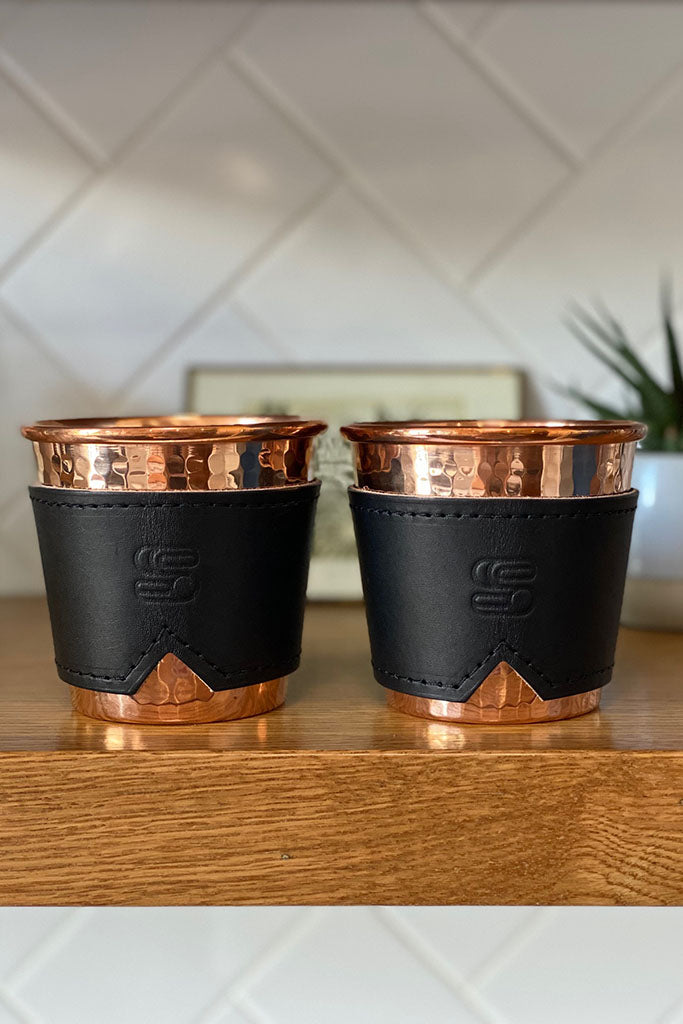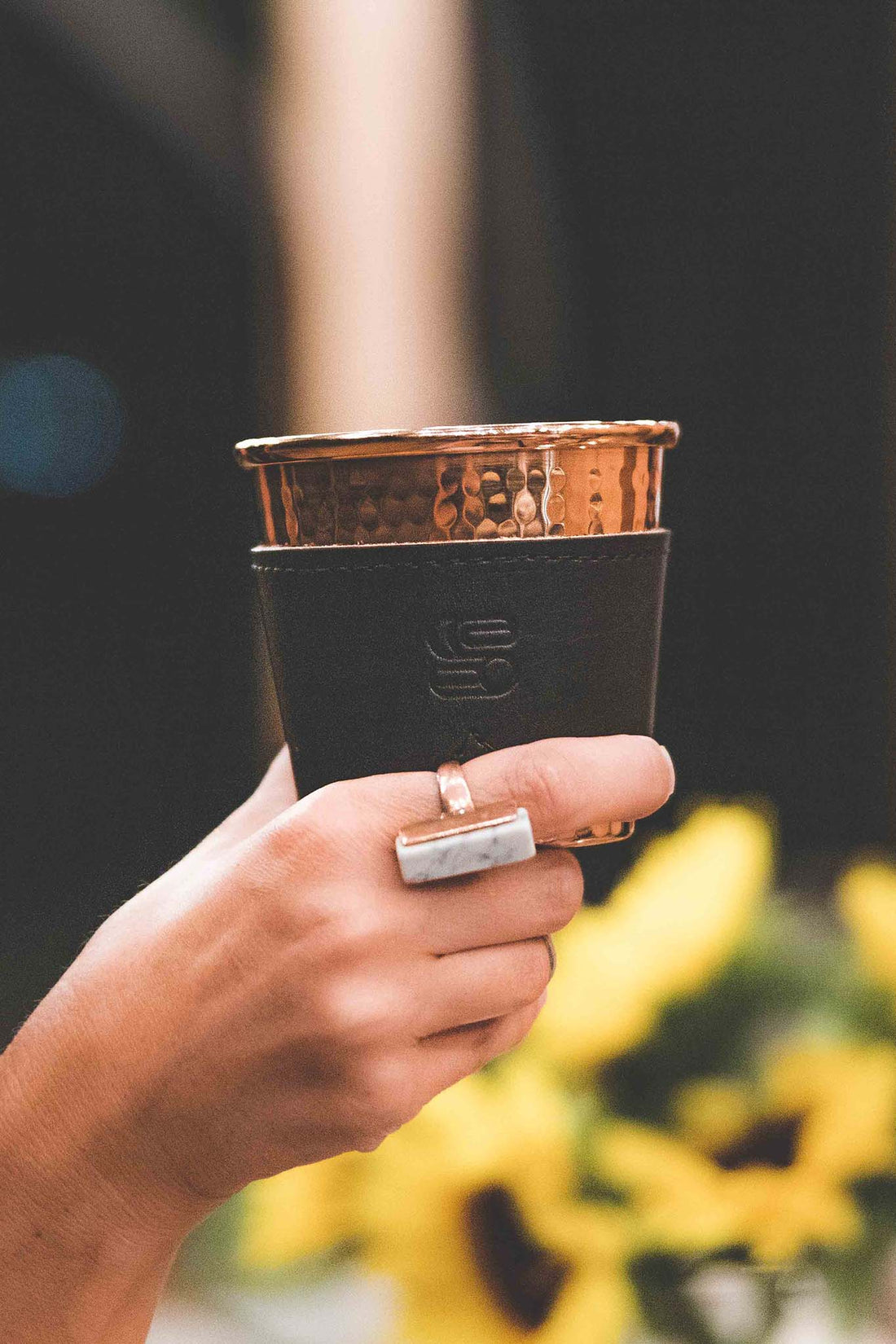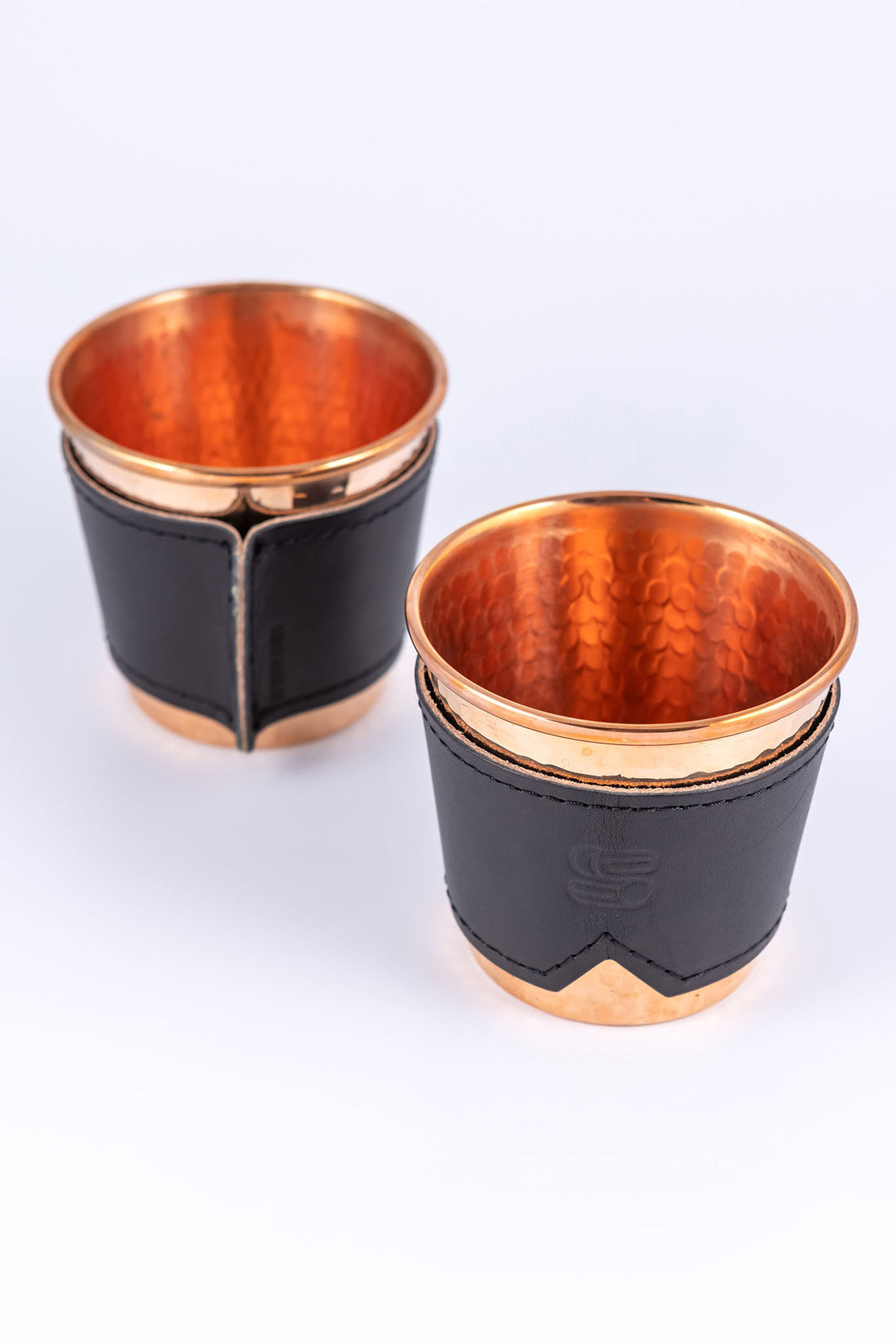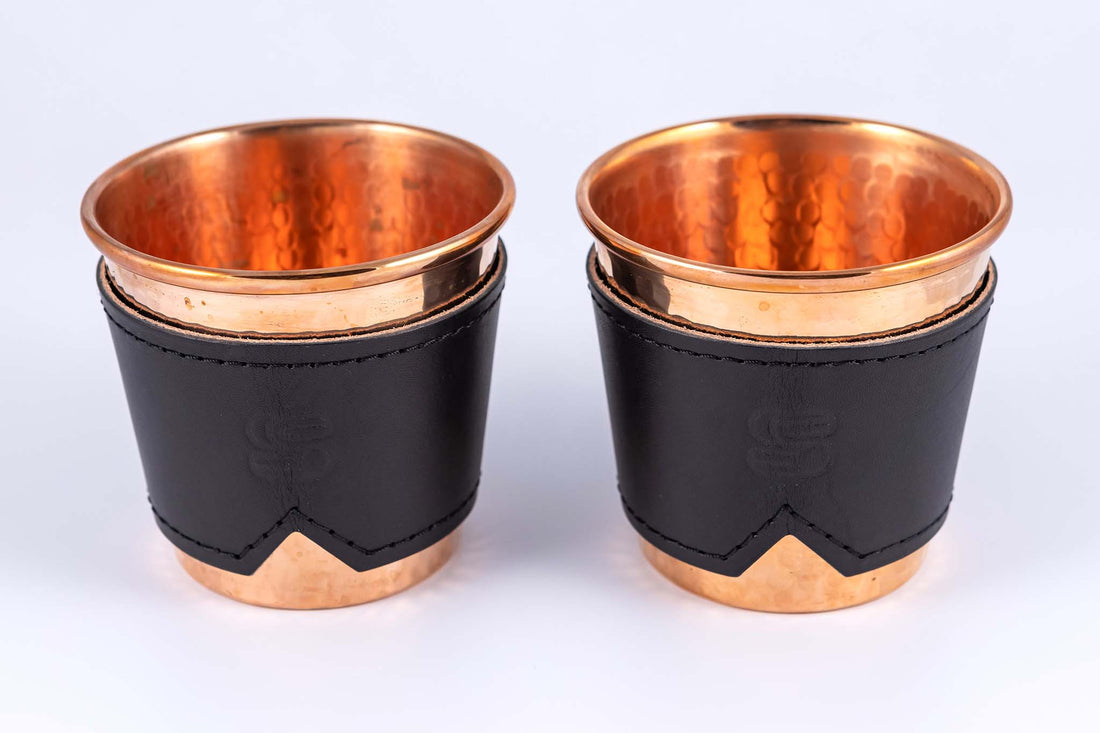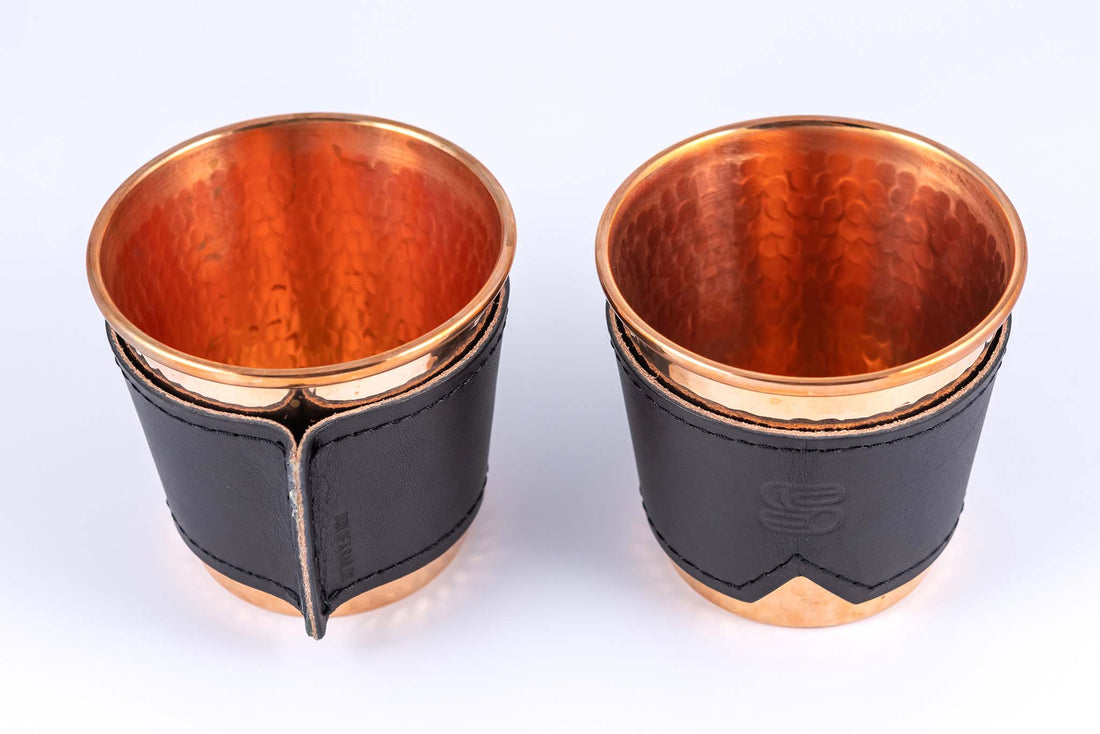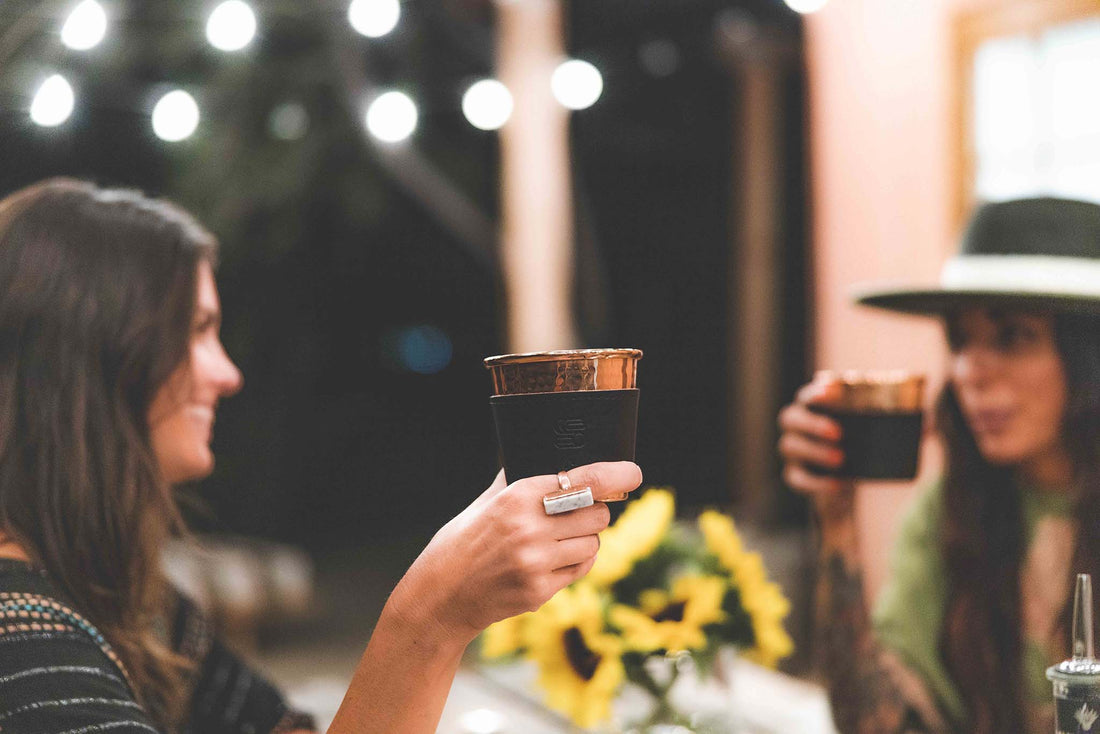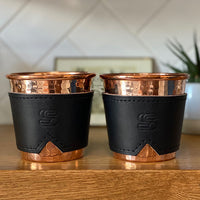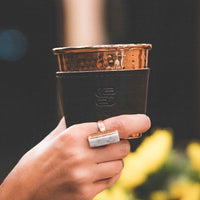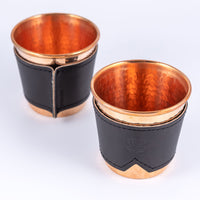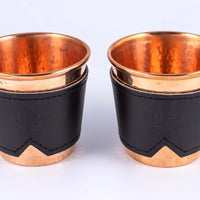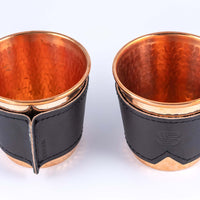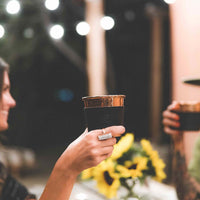 Hammered Copper Cup Set with Leather Sleeves
This set of two 18 fluid oz. hammered copper cups with leather sleeves are made of hand-forged solid 100% recycled copper. The black, natural leather shows off a sleek, masculine look from bar or kitchen shelving. Fill these beauties with everything from a Mint Julep or Hot Apple Cider during the holidays.
Cups are accessorized with removable stitched leather sleeves that insulate hands from hot or cold and hand-stamped with the Sound As Ever "S" making these a truly unique item and perfect gift.  Collect these classic, timeless, heirloom pieces when you're ready to add some Southern Hospitality to your next hang. 
Handmade in Austin, Texas. Crafted for longevity. This hammered copper cup and leather sleeve set is meant to be passed from generation to generation. 
Pairs well with our Leather Coasters from our leather collection. 
Sold as a set of two.

MATERIALS:
-100% recycled, pure copper
- Black leather

DESIGN:
- High quality, heavy gauge copper
- Hammered polish
- High-shine
- Sleeves hand-stamped with Sound As Ever "S" logo

MEASUREMENTS:
- Cups hold 18 fluid ounces
At Sound As Ever, we chose to highlight 100% recycled copper products because positive environmental impact is one of the guiding principles of measuring our success as a business.

Recycling copper has many positive environmental outcomes including solid waste diversion, reduced energy consumption from processing, and natural resource conservation. 100% recycled copper products are the eco-friendly, sustainable choice.
Wash and dry copper shot glasses immediately to prevent spotting, though some spotting will occur over time from reactions with tap water. Copper will patina with time, but can be polished to its original shine.

Spot clean leather with a moist cloth. For additional leather care details, see our full Leather Care Guide. Our leather products are handmade with care from genuine leather and with durability in mind.


Free domestic shipping for orders over $100. We also offer international shipping. We accept returns for products unless otherwise noted. Please see our Shipping & Returns Policy for full details.